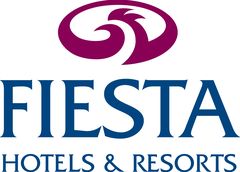 FIESTA HOTELS & RESORTS is a globally renowned hotel brand and part of the PALLADIUM HOTEL GROUP, which pursues consistent policies for each of its sub-brands and seeks to ensure that service and customer satisfaction are the priorities for all its hotels.
To this end, there is a PALLADIUM Hotel Group Integrated Quality and Environmental Management System in operation, which can be consulted in section 2.2 of the PALLADIUM Hotel Group manual by anyone who wishes to do so and which guests can also view in every group hotel.

Mission, Vision and Philosophy of the Brand
To offer beachfront hotels and resorts for the perfect vacation. These 3- and 4-star hotels are perfectly equipped for families with children as well as for couples and guests travelling alone.

Values
The most important asset of Fiesta Hotels & Resorts is its human team, who offer quality service and attention, always greeting the customer with a smile and providing all the information they require to enjoy their hotel and destination.

Objective of the Brand
Fiesta Hotels & Resorts endeavours to offer comfort and a wide array of facilities and services to its customers, catering for all their needs so that they can forget their everyday worries and simply enjoy the sun and sand.

Services
The product differentiation within the brand allows for the tailoring of services to customers' requirements when they book their stay. For the convenience of families, the hotels provide activities for adults and children including entertaining children's clubs and exciting splash pools. For those seeking an escape with their partner, Fiesta Hotels & Resorts offers its Adults Only hotels, which provide an intimate ambience and exclusive leisure and restaurant services. Finally, for guests travelling alone, the range of in-house activities and local excursions on offer make these hotels the ideal place to meet new people and to mingle with guests from different countries. FIESTA HOTELS AND RESORTS offer quality service, allowing guests to make the most of their sun-drenched break.
View more