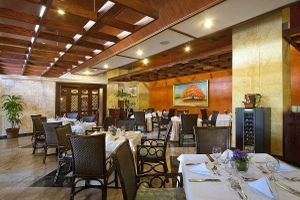 +
El Mercado Restaurant
Located in the Lobby. Bufet and "a la carte" style restaurant. International Cuisine and "Show Cooking"; serving breakfast, lunch, and dinner.Air conditioned. Open: 6:30am-10:30am; 12:30pm-3:00pm; 7:00pm-10:30pm

Snack Bar and Grill
Located near the pool. Snack, Grill & Pizzeria. Soft drinks. From Friday to Sunday. Open: 11:00am-4:00pm

Dominican Fiesta Hotel & Casino also offer gluten-free menus and a special program for people with allergies and intolerances.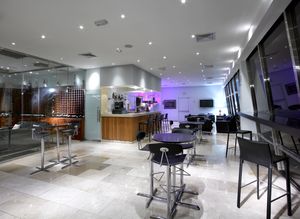 +
Lobby Bar
Located in the lobby. Air conditioned. Snacks and drinks. Open 10:00am-2:00am.

Sports Bar
Air conditioned, serving beverages and offering the perfect environment to watch your favorite sporting events.
Open 10:00am-2:00am.


La Azotea Bar
Located at the Executive Club. Continental breakfast. Wide selection of wines. Live Jazz every Friday. Open 10:00am-11:00pm. Breakfast: 07:00am-10:00am.

Pool Bar
Located next to the pool, serving drinks. Open 10:00am-8:00pm.

Casino*
Luxurious Casino. Drinks service.