The Palladium Hotel Don Carlos offers exquisite gastronomy to delight the most demanding palates, in brightly themed rooms with magnificent views. The hotel has two restaurants: a varied buffet and a restaurant serving à la carte Mediterranean cuisine. You can also enjoy cocktails and refreshing beverages and impeccable service in our 2 specially designed bars. In the Palladium Hotel Don Carlos we prepare exquisite dishes that bear witness to a cuisine that is renowned for its high standards of quality. Enjoy Premium beverages in the relaxed atmosphere of our modern designer dining room, while you listen to the breeze wafting up from the sea.
For our guest's greater enjoyment, we offer an express breakfast for those who have to check out early, and cold dinners for those who check in late, as well as a take-away picnic service*.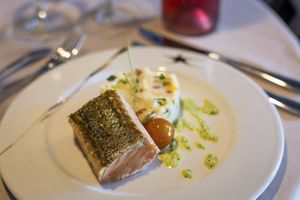 +
In the Palladium Hotel Don Carlos we have created a marvellous space beside the sea and surrounded by a magnificent garden. Allow your senses to savour the full effect of the flavours of the Mediterranean. A restaurant with an avant-garde design in a unique setting, ideal for an unforgettable evening.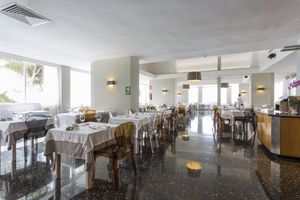 +
Located in the main building, our most recently renovated buffet restaurant presents a wide variety of dishes for your dining pleasure. Enjoy exquisite and Italian specialities and meat dishes. It also offers special menus that you can accompany with a selection of national and international wines*.
Hotel guests can also enjoy their meal (but not beverages) in any other hotel of the same category within the Palladium Hotel Group.
*Consult the fact file.
Make the most of every moment, and enjoy your favourite cocktail and our tasty snacks. A room in which every detail counts.
In the Palladium Hotel Don Carlos you are the star and your maximum comfort is our priority. The pool bar awaits you. We will be pleased to serve you our Premium beverages while you relax and enjoy the sea views from your Balinese bed.
Information is subject to change.