The Fiesta Hotel Cala Gració features a delicious buffet restaurant and 2 bars for guests' enjoyment. Wide variety of cuisine offers something for everyone!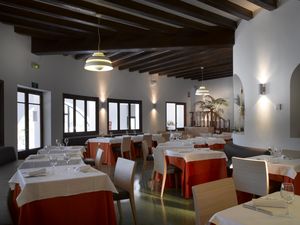 +
Live show cooking and a variety of national and international cuisines, as well as a selection of wines.
Breakfast, lunch and dinner with original themes for its buffet, to enjoy in the open air or in the air conditioned lounge.
Choose between its terrace with views over the garden or its air conditioned lounge and spend some time with your partner enjoying delicious drinks with spirits.
Have one for the road or an infusion before going to bed after a long day, choosing from one of the options available in our bar.
Whatever you fancy mid-morning, visit our pool bar and choose your favourite snack or drink.
Information subject to change.