In the Palladium Hotel Palmyra we look after every detail so that our guests can have an endless series of adult leisure choices that add to their holiday enjoyment. Your stay will be even more pleasant and fun with our daily programme of pool and beach activities. There is a fully-fitted gym room, and all manner of activities and water sports to allow you to explore the island. After a day full of great activities you can listen to live music and watch a show that is guaranteed to turn your stay into a dream holiday.
Enjoy our programme of animation led by a team of excellent professionals, and our personalized service. Our activity programmes create a great atmosphere during your free time, and will make sure you spend some unforgettable moments with us.
A full programme of daytime and night-time activities. Leisure and sport on the beach and in the pool.
Evening shows.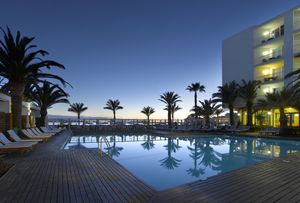 +
Relax in our outdoor fresh-water pool which you will find in the central area of the hotel. Well-sized (2.5 metres deep and a surface area of 400m), it also provides sea views This large pool includes a space designed for hydrotherapy comprising two water jets to revitalize body and mind. After a restoring swim, relax on our magnificent sun terrace with its sunshades and free loungers, or disconnect by listening to the sea breeze while one of our top professionals gives you a massage*. If you wish, there is a towel service * for your greater comfort.
Make the most of your stay in the Palladium Hotel Palmyra by enjoying its fun facilities:
Table tennis
Participation in Fun Games
Night-time shows or games in the theatre.
Water gymnastics
Water polo
Gymnastics / aerobics.
Live music in the lobby bar.
You can enjoy all manner of sport events and movies in the Paramount lounge
To really explore the white island, there are numerous external activities close to our hotel in San Antonio:
Windsurfing and sailing *
Diving *
Catamaran *
Canoe*
Pedal boats *
Mini-golf *
Water skiing *
Jet skis *
Go-karts *
Golf *
Horse riding*
Information subject to change.
The hotel does not accept any responsibility for third-party services
* Extra charges
** Activities with extra charge nearby the hotel