The Grand Palladium Resorts at the Mayan Riviera offer a daily program of sports and entertainment activities on the beach and at the pool for everybody. Practice your favorite sport with your family during the day: volleyball, archery, soccer, paddle…and don't miss the shows, live music and games our entertainers organize every night at the theater. There are also PlayStation, pool, table tennis, sand castle, treasure hunt and karaoke tournaments. Guests from all ages always find the best way to have fun at the Grand Palladium Resorts: Spa and the Sunset Boulevard Discotheque for adults, and videogames, arts and crafts and the Mini-disco for kids. And for nature lovers, we also have a crocodile habitat with an exhibition of their feeding.
Information subject to change.
*Additional charges.
Children under 18 are not allowed in the discotheque.
Guests enjoy free access to all services offered at the four Grand Palladium Resorts in the Mayan Riviera, except those located at The Royal Suites Yucatán by Palladium.
The hotel is not liable for services provided by third parties.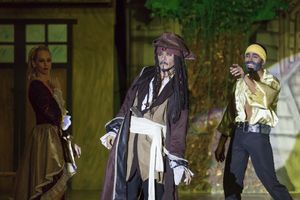 +
A complete, daily program of sports activities and entertainment on the beach and at the pool.
Activities and games at main pools and on the beach.
Palapas for shade, beach loungers/sunbeds and towel service. Lifeguards: 9:00 am - 6:00 pm (according to schedule of summer-winter). Scenic pontoon boat with rides around the resort complex and the extensive lake located at the Grand Palladium White Sand Resort & Spa and the Grand Palladium Riviera Resort & Spa.
Children's animation throughout the day and shows and/or mini-disco at night.
Shows and games every night in the theatres located at the Grand Palladium Colonial Grand Resort & Spa and Grand Palladium Riviera Grand Resort & Spa.
Sunset Boulevard Discotheque at the Grand Palladium Riviera Resort & Spa, air conditioned, from 11:00 pm – 2:00 am. Children under 18 years old are not allowed.
Live music at the Grand Palladium Colonial Resort & Spa and the various lobbies.
Some of the entertainment activities include: salsa and merengue classes, Olympics on the beach, Spanish lessons, "gregorio gregorito" game, quizzes, beach ball, PlayStation, pool, mini golf, ping-pong, basketball and tennis tournaments, sand castle competition, treasure hunt, horse shoes, Mexican games, beer drinking contest, kayak race, frisbee games and karaoke.
Gymnasium
Aerobics
Aqua-gym
Water Polo
Mini golf
Ping-pong
Archery
BB Guns
Rifle practice
Darts
Billards
6 Tennis courts
2 Paddle courts
2 Badminton fields
2 Basketball courts
1 Soccer field (artificial turf) and 1 Indoor soccer court (artificial turf)
3 Beach volley courts
1 Multiuse field
Participatory games
2 Shuffleboards
Petanque
1 Shooting range for rifles
1 Archery range
Scuba Diving*
Snorkeling
Catamaran
Kayak
Windsurfing
Deep-sea Fishing*
Pedal Boats
Windsurf, sailboat and catamaran courses*
Excusions*