Whether you prefer to have fun under the warm Caribbean sun or enjoy the smoothing sea breeze at nighttime, the Grand Palladium Resorts offer a fun-filled agenda of sports and entertainment activities for grown-ups and kids, every day. Practice your favorite beach sports with your family during the day, and don't miss the shows, live music and games we feature in the theater. Every day of the week we offer a special plan to meet everyone's preferences: Spa, casino and the Sunset Boulevard Discotheque for adults, and video games, arts and crafts, and a mini-disco for children. Swimming pools, sports, aerobics, Spanish classes, mini golf...We guarantee that our guests will always find something fun to do during their stay at the Grand Palladium Resorts.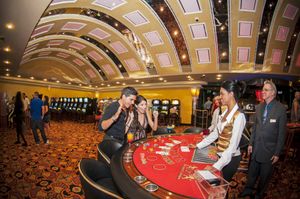 +
Activities and games at the main pools and the beach.
Children's entertainment throughout the day and shows and/or mini-disco at night.
Shows and games every night at the theatre.
Sunset Boulevard Discotheque, air conditioned. Open from 11:15 pm – 2:00 am.
Casino de 10:00 am – 3:00 am.
Live music every night.
Gymnasium
(Opening hours: 6:00 a.m. – 10:00 p.m.)
Golf*
Aqua gym
Water polo
Mini Golf
Table tennis
Archery
Darts
Billiards
Soccer
Beach volleyball net
4 badminton courts
6 hard-floor tennis courts (floodlights*)
4 paddle courts (floodlights*)
6 petanque courts
Information and timetable subject to change.
*Additional charges.
Catamaran
Windsurfing
Kayaks
Banana Boats*
High Seas Fishing (4hrs basic tour excursion)*
Diving courses with international certification (PADI)*
Glass bottom boat*
Diving and snorkeling excursions to Isla Catalina*
Catamaran and windsurf courses*
Information and timetable subject to change.
*Additional charges.