Timetable

8:00 pm - 1:30 am

Phone

+34 971 396 705

Email

montauk@ushuaiabeachhotel.com
Montauk Steakhouse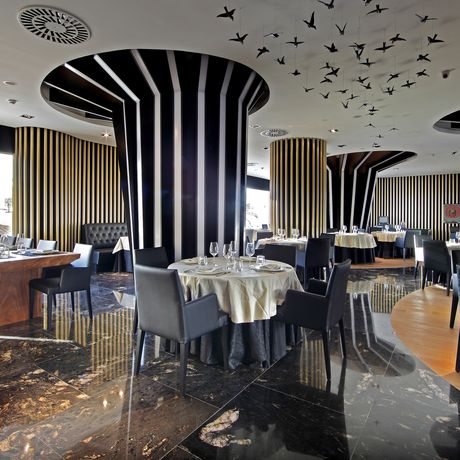 +
Come to the Montauk Steakhouse Meat Restaurant in Ibiza. A luxury gourmet experience which will surprise and delight your taste-buds.

Montauk Steakhouse is an exclusive restaurant located within the Ushuaïa Tower Hotel, on one of the most internationally renowned beaches of Ibiza, right next to the Ushuaïa Beach Club. Our faithful representation of North American cuisine has made us the first steakhouse on the island renowned for its speciality, meat.

The combination of the enticing aroma of grilling meat surrounded by minimalist and modern décor, guarantees a wonderful evening for gourmet customers.

The Montauk Steakhouse restaurant in Ibiza offers only the best quality beef which can be savoured with our tasting menu of different cuts, accompanied by a wide range of sauces and garnishes. Our wine list offers an extensive selection from our range of exclusive wineries, to find the perfect pairing for your meal.

Our chefs prepare traditionally Mediterranean starters as well as juicy, mature ox meat and wonderful Montauk Steakhouse–style hamburgers. We are famous for following strict procedures regarding the selection of only the highest quality raw materials, as well as the meticulous preparation and presentation of our dishes, to offer you the most incredible results.

We have become a luxury restaurant open to the public, offering succulent and juicy, natural flavoured meats to enjoy with the most spectacular sea views in Ibiza.