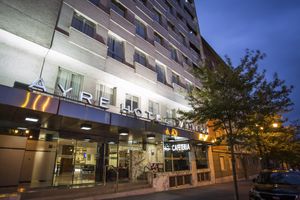 +
Buffet Breakfast - breakfast room: It offers a wide variety of both cold and hot products, from delicious bacon and eggs to fresh fruit
Lunch Menu - Cafeteria Ayre € 12.90: A starter to choose from and a 2nd dish, plus dessert and coffee.
Lunch a la carte- Cafeteria Ayre.
Dinner a la carte - Cafeteria Ayre.

Information subject to change.
* Additional charges.