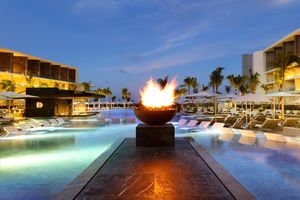 +
The Village, the soul of TRS Coral Hotel, is a sophisticated space that allows you and your partner to enjoy new life enriching experiences together, thanks to the exclusive access to a wide range of restaurants, bars, shops, and recreation areas.

Let yourself the freedom to try our innovative boat channel system to move through the different areas of the hotel. Explore a new way to relax chilling out in our design floating chairs "Fire Pits", distributed along the canals.

TRS Coral Hotel is all about sublimely personalised experiences designed to surprise and delights you and your mate. The possibilities are endless, all kind of premium services and facilities are offered. Enjoy life your way.