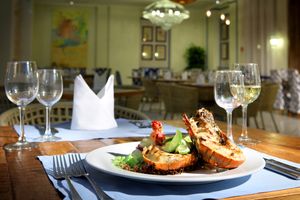 +
At the Palladium Hotels & Resorts, we believe in quality and variety. Thanks to our All-Inclusive Program, the Grand Palladium Imbassaí Resort & Spa offers a large selection of exquisite cuisines as well as national and international premium drinks.
Enjoy a relaxing day in our Spa** and have fun with any of our activities and shows.

*Information subject to change.
*The number of visits to a la carte restaurants is unlimited.
*Reservations needed for a la carte restaurants.
*Subject to availability.
** Access to the wet areas (hot tubs, pool, sauna and steam baths) in our Zentropia Palladium Spa & Wellnesscenters will have a $10USD fee per guest, per day for Grand Palladium´s guests.
Our Royal Suites guests and Palladium Travel Club members have their entrance included in their stay. Also there will be offers and special attentions towards our guests.
Also, guests who purchase any of our spa treatments at Zentropia Palladium Spa & Wellness will be given free access to our wet areas that day.